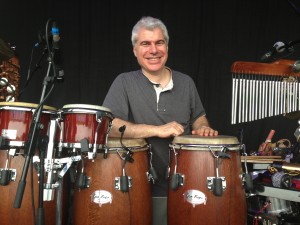 Born in Genoa, Italy in 1967, Marco Fadda is one of the most complete multi-percussionists in Europe, well known for his original style and sound. He plays a huge variety of both ethnic and popular instruments from all around the world, and many musical styles, from Latin to Jazz. He also plays traditional drumset.
Although he began playing at the age of 12, his professional debut was in the early 90's. In 1997 Marco won the first edition of the "Naco Memorial Percfest" (Italy's most important percussion festival). After the win he became one of the most sought after percussionists in Italy, sharing the stage with Stefano Bollani, Ivano Fossati, Riccardo Tesi, Eugenio Finardi and Anna Oxa.
Marco's career went international when he joined the "Novecento", a jazz funk band.  With the NBM−Just Groove label, Marco began recording with top international artists such as Billy Cobham's "Drum'nVoice" (with Eddie Gomez and the Brecker brothers); "Drum'n voice II" (with Frank Gambale, Airto Moreira and Dominic Miller); Stanley Jordan's "Dreams of Peace" (with Dave Liebman, Gregg Brown and Guy Barker); Novecento's "Novecento featuring" (with Jeff Berlin, Toots Thielmans and Billy Preston); Gregg Brown's "Together as One" (with Sting, Dominic Miller and Airto Moreira); and Ronnie Jones' "Again " (with Steve Lukater and Bill Evans). In total, he has recorded close to 200 albums with Italian and international artists.
Throughout his career, Marco has made a point of travelling to research his favorite percussion instrument, the Cajón. He has spent long periods of time in Peru, Cuba and Spain, and has become an international reference in the study of this great instrument.
In 2011 Marco received a lifetime achievement Award from the Mediterranean Festival of Genoa and the Insound Trophy as best Italian percussionist. In 2013 he began a rewarding collaboration with famous Italian crooner Mario Biondi, both in live concerts and studio recording sessions.
---