"Meia Noite" Nailton Bispo Dos Santos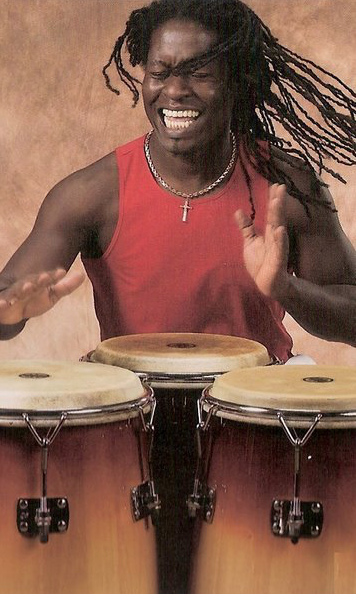 NAILTON DOS SANTOS, also known as Meia Noite, is one of the world's leading percussionists. Inspired by the driving rhythms of his native Bahia, Brazil, he created So no Sacode, of which he is leader-percussionist. Meia Noite has played and recorded with artists including Jovanotti, Will.I.Am, Aretha Franklin, Sergio Mendes, Airto Moreira, Giovanni Hidalgo, Ricky Martin, and Soul y. He has performed on the soundtracks for the Oscar nominated movie Rio and Dick and Jane. Meia Noite resides in New York, where he performs with dance companies, orchestras, and Brazilian groups.
Nailton Bispo Dos Santos is better known as percussionist Meia Noite. He was born in Salvador Bahia, Brazil. Began playing percussion at the age of ten in drums sections of Bahia Carnival groups.  Meia Noite played with Bahia's premier folkloric group, Viva Bahia and Bahia Magia as principal percussionist. Santos has traveled extensively throughout brazil and Latin America with these companies.
In 1988 he was contracted as studio musician by Waner Records in Bahia. Recorded with Banda refexus on their serpente negra Lp and Reflexus 1990 release Mae africa.
In 1989 Nailton Bispo Dos Santo was invited by the internationaly known David Byrne to participate in Byrne's video Ile Aiye( House of Life), Santos was one of the four Brazilian percussionist to recorded with Byrne on this project.  Also in 1989 he joined the musical revue, Oba Oba. His percussion solos were greatly received throughout Oba Oba North American tour.
In 1991 Mr. Santos joined Sergio Mendes and Brazil'99 Santos recorded with Sergio on mendes Grammy award winning release , Brasileiro and 1994 in Mendes release Oceano.
In 1994 Meia Noite traveled throughout Japan, Thailand, Indonesia and Europe with Sergio mendes in Mendes tour Brazil'99 In 1995 Santos was invited to play in Honk Kong with Jacky Cheung in concert 1995.
Meia Noite has formed his own group called The Midnight Drums Band. In addition to Mr Santos busy recording schedule and lives performaces he continues teaching percussion classes in Los Angeles Unified School District, Steinford and UCLA.
---