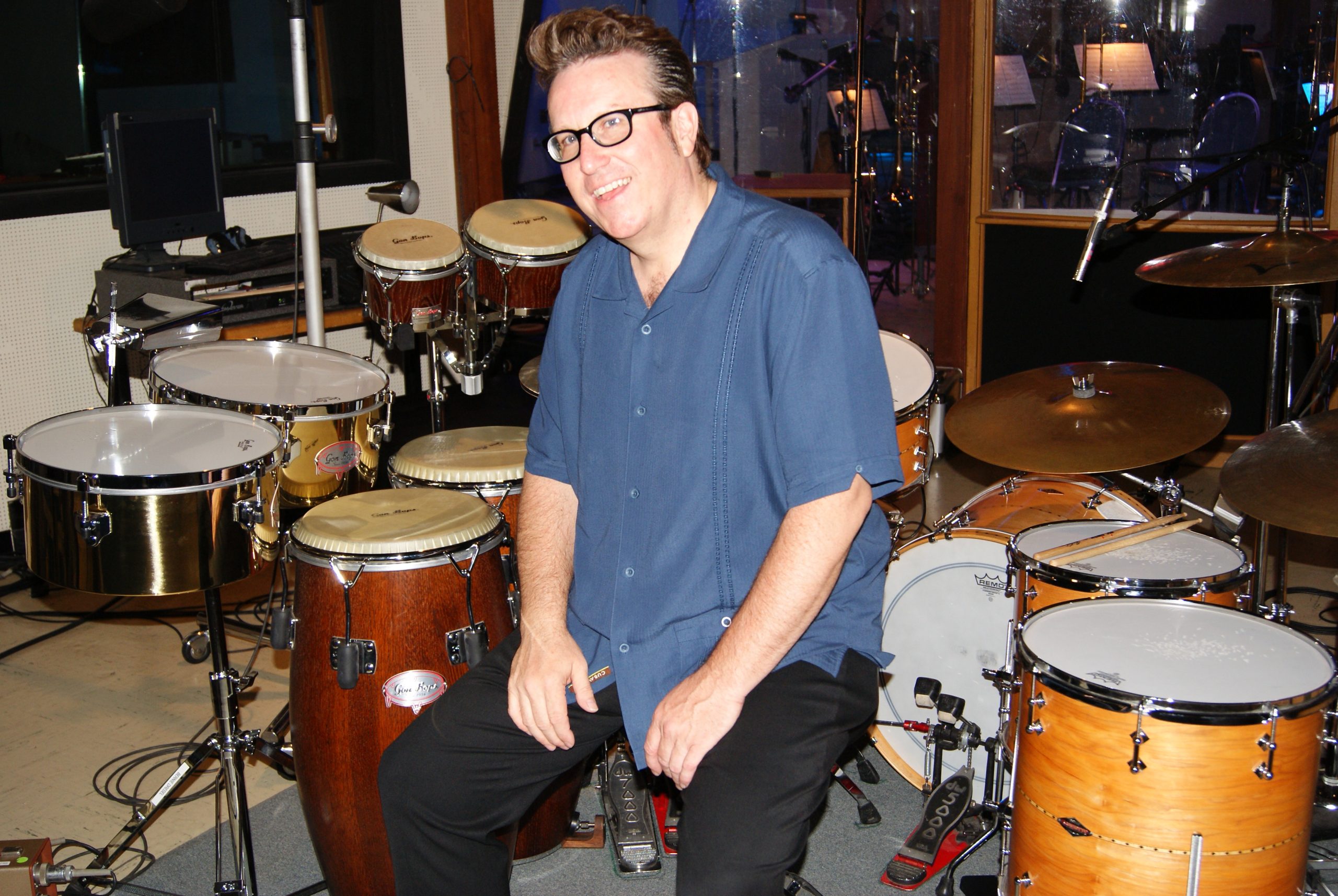 Bernie Dresel has been one of the busiest studio and live musicians in the world as both a drummer and percussionist since moving to Los Angeles in 1983 after graduating from the prestigious Eastman School of Music. He has traveled the world, occupying the coveted drum chair for Grammy Award-winning Gordon Goodwin's Big Phat Band since its inception in 1999. And also, for an overlapping 15 years (1992 to 2006), he was the drummer for the multi-Grammy Award-winning Brian Setzer Orchestra, selling close to 4 million records. Modern Drummer magazine's readers' poll named Bernie "Best Big Band Drummer" and Drum! Magazine has put him on their list of "53 Drummers Who Made a Difference in the '90s" as well as honoring him with a Drummie® for Best Big Band Drummer.
Bernie Dresel' s jazz orchestra, The BBB, is without question one of Los Angeles' most exciting large jazz ensembles, if not on the planet. It is one of the most innovative and original hard-swinging large jazz ensembles ever. The BBB provides potent testimony to the sheer exhilaration of big band jazz…a combination of intense swing and fiery soloing, as well as tight ensemble playing, powered by Bernie Dresel's extraordinary drumming talents.
The BBB is comprised of 16 seasoned pros on the Los Angeles studio scene. Populated by LA's finest players, The BBB delivers a contemporary, highly original sound featuring the witty, intricate, and hard-swinging compositions of established and up-and-coming composers and arrangers. And like those other famous jazz orchestras such as Buddy Rich's, Count Basie's, Woody Herman's, Stan Kenton's, Maynard Ferguson's, Thad Jones/Mel Lewis' and Gerald Wilson's, the music and delivery of The BBB's music is nothing less than astonishing when experienced live. The sound has a contemporary, dynamic, and hard-swinging energy, with a focused edge to it that is like no other jazz orchestra, though, reminiscent of Buddy Rich's ensembles. The band make-up is unique in that there is no piano but jazz/rockin' electric guitar instead, in addition to four trumpets, four trombones, five saxophones, and upright acoustic slap bass and drums. When people hear Bernie's BBB, the first thing that hits them is its energy and intensity.
At the helm of The BBB is jazz drummer extraordinaire Bernie Dresel. Bernie is the first-call drummer and percussionist on the Hollywood stage for motion picture and television soundtracks. Count Basie, Maynard Ferguson, Woody Herman, Duke Ellington, Buddy Rich, Thad Jones and Mel Lewis, Earth, Wind & Fire, and Tower Of Power, among many others established and new jazz orchestra composers and arrangers, fill the book for the music his band makes today. And like those other bands, Dresel's rendering style is nothing less than exciting, driven by one of the most accomplished jazz drummers in the world.
Established in 2014, with a live performance tribute to Buddy Rich, The BBB plays monthly at jazz clubs in the Los Angeles metropolitan area.  Prior to forming his own jazz orchestra, Bernie backed Maynard Ferguson, the Brian Setzer Orchestra, and Gordon Goodwin's Big Phat Band. Bernie served 15 years for both Setzer and Goodwin. He has been the drummer on numerous Brian Setzer Grammy Award®-winning recordings and more recently on every recording that Gordon Goodwin's Big Phat Band has released, including the Grammy Award-winners.
---