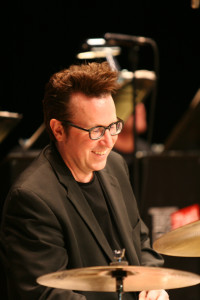 ---
THE BACKSTORY
BORN IN:
Sharon, PA
LIVES IN:
Los Angeles, CA
DRUMMING SINCE: 
Since I was 2 (1964)  Private lessons started when I was 4 (1966)  First professional gig when I was 10 (1972), moved to Los Angeles in 1983 after graduating from the Eastman School of Music.
CURRENT PROJECT(S):
Gordon Goodwin's Big Phat Band, BERN; Television shows such as The Simpsons, Family Guy, American Dad, The Cleveland Show; Feature films such as Star Trek, Mission Impossible, Up, and many more.
THE INSIDE SCOOP
BIGGEST INFLUENCES:
Steve Gadd, Jeff Porcaro, Gene Krupa, Buddy Rich, Jimmy Cobb, Tony Williams, Ringo Starr, Luis Conte, Alex Acuna, Lenny Castro, and MANY MORE!
FAVORITE ALBUM YOU PLAYED ON:
Brian Setzer Orchestra "The Dirty Boogie"
FAVORITE ALBUM YOU DIDN'T PLAY ON: 
Miles Davis, "Kind of Blue"
CAREER HIGHLIGHT: 
So many…..playing with Ringo on the Dame Edna Show, playing with Steve Gadd with James Taylor, playing with the Brian Setzer Orchestra at Woodstock '99.
THE GON BOPS SKINNY
FAVORITE GON BOPS INSTRUMENT:
Congas
CURRENT GON BOPS SET-UP:
Congas, Timbales, Bongos, Various cowbells, shakers, and hand percussion.
Website
Facebook.com/berniedresel