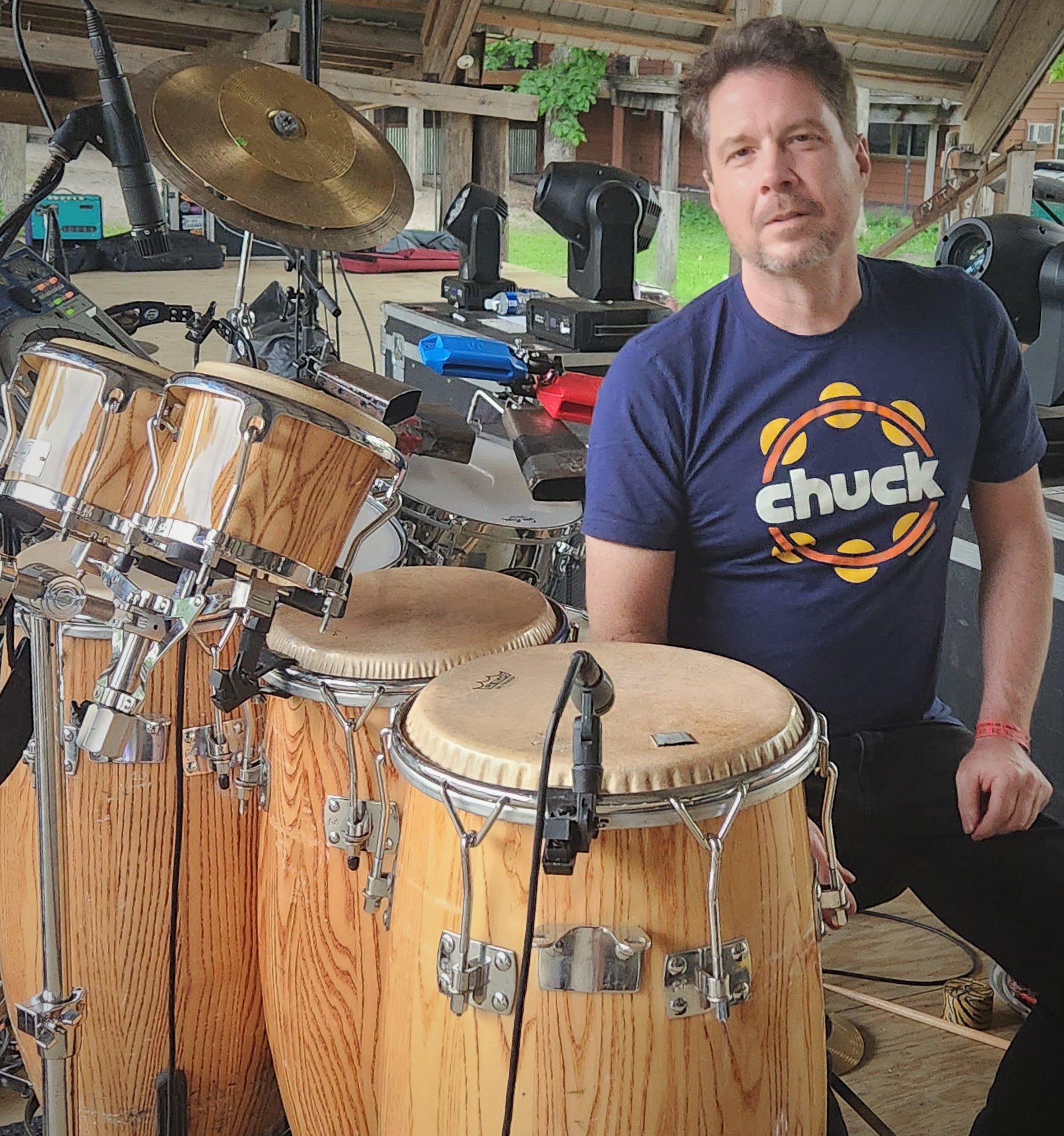 Doug Christianson is a percussionist and drummer hailing from St. Paul, MN. As a versatile veteran of both Jam band and tribute band scenes, he can most often be found onstage with Twin Cities band Frogleg, of which he has been a member for a decade. Their varied catalog provides ample opportunity to use his experience in hand percussion, drumkit, and classical percussion to craft compelling complementary parts that help create the undeniable Fleg funk. They've toured extensively, headlining West Coast and Midwest venues and festivals, sharing the stage along the way with legends like Lettuce, Galactic, and George Porter Jr. 2023 saw the release of their acoustic album titled Uncroaked that has garnered critical praise and drawn comparison to the seminal Grateful Dead album, Reckoning. In addition to Frogleg, he also joined veteran jam band stalwarts The Big Wu for many of their 30th-anniversary tour dates.
On the tribute side, his Peter Gabriel tribute PG13 has become more active and is looking to expand nationwide with support from management specializing in tribute acts. On top of replicating the challenging and idiosyncratic drumkit work of Phil Collins, Jerry Marotta, and Manu Katche, he also provides hand drum and electronic percussion a la Ged Lynch.  He is also a member of a Twin Cities favorite, Slippery People, whose legendary Valentine's Day shows draw together Talking Heads fans from far and wide for a yearly deep winter dance party. His assortment of Gon Bops percussion shines brightly in reproducing the beautiful percussive tones that are a Heads signature.
Doug recently recorded drums and percussion for Chris Castino and Mark Joseph of the Big Wu, Scott Allen, and the List alongside notable drummers Tony Austin, JT Bates, and Noah Levy. He also co-produced and recorded drums on several tracks (including one penned by Kat Perkins of The Voice fame) for Protest, a Revolutionary Rock Opus that focuses on the history of women in protest. They have several concerts scheduled for 2024 with an eye on a full-scale theatrical production.
He continues to embrace a multi-percussion concept that blurs the lines between traditional drumkit and percussion role, whether solo or as part of a percussion section. Gon Bops has long been his percussion choice due to their unique sound, which brings out the best of the traditional while looking to the future.
---