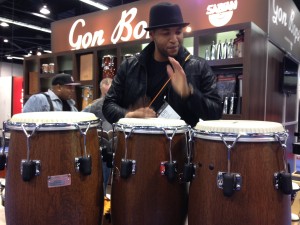 Eliel Lazo began playing at an early age, egged on by his very enthusiastic family. He studied at Oscar Valdes' school of percussion (former IRAKERE singer and percussionist). In 2003, at the age of 19, Eliel won the prestigious PERCUBA International Percussion Prize.
Eliel Lazo first visited Denmark in 2004 on an invitation from the Danish Radio Big Band. Other invitations soon followed. Eventually, Denmark became a stable base on his travels around the world, and in 2007 he made Copenhagen his home. He has played with musicians as diverse Michel Camilo, Chucho Valdes, Changuito, Tata Guines, Herbie Hancock, Bob Mintzer, Wayne Shorter, Oscar Valdes, Carlos del Puerto, Brian Blade, Dianne Reeves, John Pattitucci, Airto Moreira, Dave Holland and many others. He has also played with the popular Cuban bands Diakara and Habana Ensemble, and in Denmark he has worked with the Danish Radio Big Band, Savage Rose, Blanco Y Negro and Mikkel Nordsø Band.
In 2004 Eliel Lazo played on his first album with "Art Ensemble of Habana" on Commodo Depots records in Japan. His second album "Blanco Y Negro" (Stunt records) was also recorded in Cuba. His third album "El Conguero" (Stunt records) received a Danish Music award for album of the year in the world music category.
You can find Eliel playing on Mikkel Nordsø's 7 Steps to Heaven, Hanne Boel's The Shining of Things,  the Danish Radio Big Band's Cuban Flavor and Spirituals, where Eliel is featured as percussionist and vocalist. His playing is also featured on CUBADISCO award winning CD, Andante of Cesar Lopez Y Habana Ensemble. He also performs in Music Under the Radar, an American film about Cuban music. Eliel has taught at conservatories in Cuba, Denmark, Finland, Norway, Switzerland, Germany and Sweden.
Lazo's most recent CD  "Eliel Lazo and the Cuban Funk Machine" features American tenor saxophonist Bob Mintzer along with a line-up of Cuban, Danish and Swedish musicians that makes the album very unique. The CD is a tribute to 70's funk and Cuban Songo, inspired by bands such as Irakere, the Headhunters, the Meters and especially Los Van Van. The  CD is  dedicated to master Jose Luis Quintana "Changuito" and Juan Formell (August 2, 1942 – May 1, 2014)
---