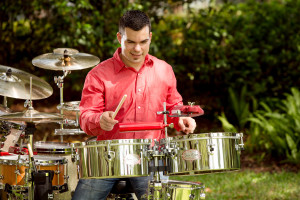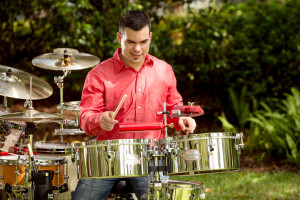 Elio Piedra began his career at the age of 10 at the Arts Conservatory Raul Sanchez in Cuba, specializing in percussion studies. By 11 he was involved in the Jazz world and the fusion between Jazz, Rumba and Afro Cuban rhythms. He studied with Hector Alonso, Benicio Lezcano and Sergio M. Cardoso, giving him a solid base to prepare for a future in music.
At the age of 12 he began to participate in the most important music festivals in Pinar Del Rio, Cuba, as well as in the national music festivals. When he was 15 years old he began his music studies at the National Conservatory of Music in Cuba, where he toured with the symphonic orchestra. At the same time, he began to perform with the popular salsa group "El Cumbre", quickly gaining recognition as a drummer. With "El Cumbre" he had the opportunity to perform with important musicians such as "Aguaje", the director of "Buena Vista Social Club", Magno Bisoli, a well-recognized Brazilian musician, and others from Belgium and Argentina.
Elio participated in the longest Rumba festival in the world at the age of 17, performing on timbales. He also performed at the "Rancho Club Show" in Consolacion del Sur, Cuba, and accompanied many recognized singers on drums, most notably Maria Antonia Loriga "La Mora" and Marielena Lazo. Elio also participated in the important musical project "Internos La Musica", sponsored and directed by Luis Angel Sanches, bass player for Pablo Milanes. He performed with the group "Sonora", directed by Lazaro Reyes, as well as with the popular salsa group "Prisma" by Ricardo Perez, a recognized Jazz guitar player from Germany. At 17, Elio performed as a guest in the "Fiesta del tambor", also known as the Havana Drum Festival.
During his last year at the conservatory, Elio performed in the "Jojazz", an international Jazz festival sponsored by Chucho Valdez. This performance resulted in the formation of the band "Primera Mano", with whom he recorded the album "Fantasia". Primero Mano focused on the fusion between Latin Jazz and popular Salsa rhythms. With "Primera Mano" he had the opportunity to collaborate with Adel Gonzales, conga player for "Buena Vista Social Club" and Irakere. He also had the opportunity to play with "El Macri" from AfroCuban All Stars, among others. He also played with the "Bamboleo" orchestra and the group "Klimax en la Capital" in Havana, Cuba.
Elio moved to the United States at the age of 20, where he performed with Marielena Lazo at a concert in Solares Garden, Miami − also performing with Pancho Cepedes' band, Manolin "El Medico de la Salsa" musicians, and pianist Arronte. He relocated to Gainesville, FL, joining Latin band "Tropix", and playing salsa, meringue, bachata, son and Latin jazz. In Gainesville, he has performed with Gosia, Ali Che Ree, Karl Wainsmantel, Ekendra Das, Latin percussion artist Marty Liquori, sax player Bem Champion, Vic Donnel, Geoffrey Perry, and Scott Wilson − all members of the "Friends of Jazz" institution.
Elio Piedra performs regularly with his own project "Ondulando", collaborating with singer Laura Porras – they have been featured on the television channels Univision, Telemundo and across the city of Miami. With "Ondulando" Elio has developed as a singer, conga and bongo player, pianist and drummer. "Ondulando" has performed at Sabore Restaurant, Emiliano's Cafe, Jazz Club Leonardo's 706, and has been invited to present Master classes at Guitar Center, where Elio began working in 2014 as a drum instructor.
---