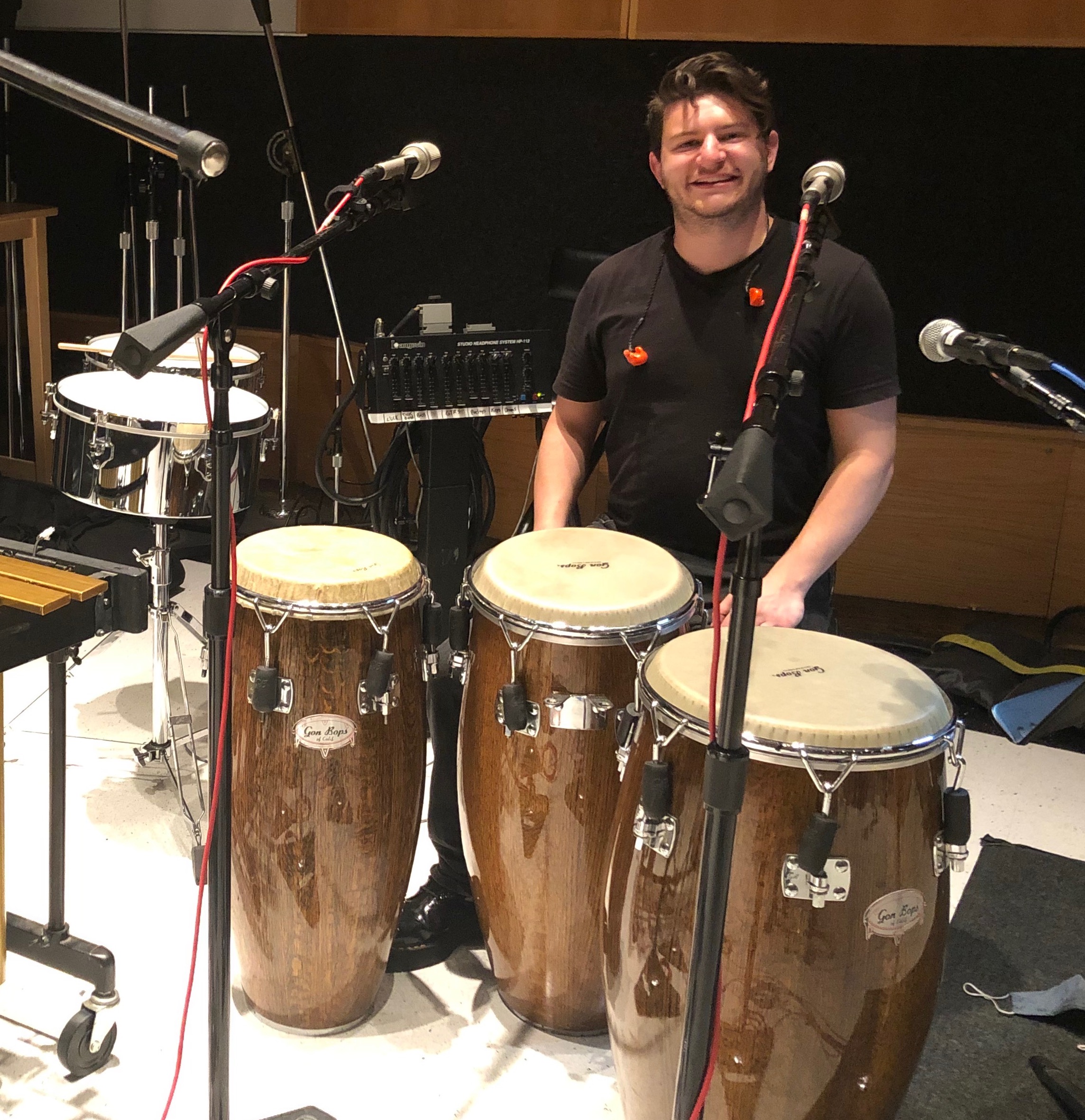 Hal Rosenfeld is a percussionist, composer, arranger, and orchestrator whose work can be heard in over 100 films, television shows, and video games.   In his words:
Aside from music directing and drumming for Rosa Linn on tour with Ed Sheeran and Khalid, I've just accepted an invitation to give a clinic on my work for films and TV at PASIC 2023!
Some upcoming projects that I have been a featured drummer and percussionist on include: "Transformers: Rise of the Beasts," "About My Father," "Strays," "My Big Fat Greek Wedding 3," "The Meg 2," "Chicken Run 2," "Only Murders in the Building," and the new hit show, "The Diplomat".
As a composer, I've just finished scoring season 2 of NBC's acclaimed primetime sitcom American Auto (building off of my friend Jeff Cardoni's ideas, who scored the first season), Lifetime's original feature Jailbreak Lovers, co-produced the music for FX's Emmy-winning Fosse/Verdon (alongside Alex Lacamoire), as well as additional music/arrangements on several film/TV/video game projects for Joe Trapanese (from 2015-2018). I co-wrote/produced the main titles for Peacock's Queer as Folk revamp (as well as additional music on the series' score). 
As a music producer, I'm currently working with Columbia Records artist Rosa Linn, working on productions for her awaited album and music directing her 2023 tour, opening for Ed Sheeran and Young the Giant, Lollapalooza, as well as past performances on James Corden and IHeartRadio's AlterEgo music festival. I also produced 3 songs for the upcoming season of Disney's High School Musical: The Musical: The Series.
As an arranger and orchestrator, I've been privileged to work with Kelly Clarkson, Leslie Odom Jr., Christina Aguilera, Tori Kelly, Laufey, In the Heights, Penny Dreadful: City of Angels, Mulan, Dreamworks' upcoming Ruby Gillman: Teenage Kraken, as well as projects with Harry Gregson-Williams, Mychael Danna, Jake Monaco, Joe Trapanese, Stephanie Economou, Andrew Kawczynski, and a concert with the LA Phil this Fall. 
As a drummer and percussionist, I've recorded or performed with Ringo Starr, Kanye West, Jonas Brothers, Hans Zimmer, Shellback/Max Martin, Justin Hurwitz, The Weeknd, Terence Blanchard, The Killers, Harry Styles, Lorne Balfe, Amie Doherty, Imogen Heap, JVKE, Gryffin, Nami Melumad, The Greatest Showman, Only Murders in the Building, Lord of the Rings: Rings of Power, upcoming Transformers, and others. 
---