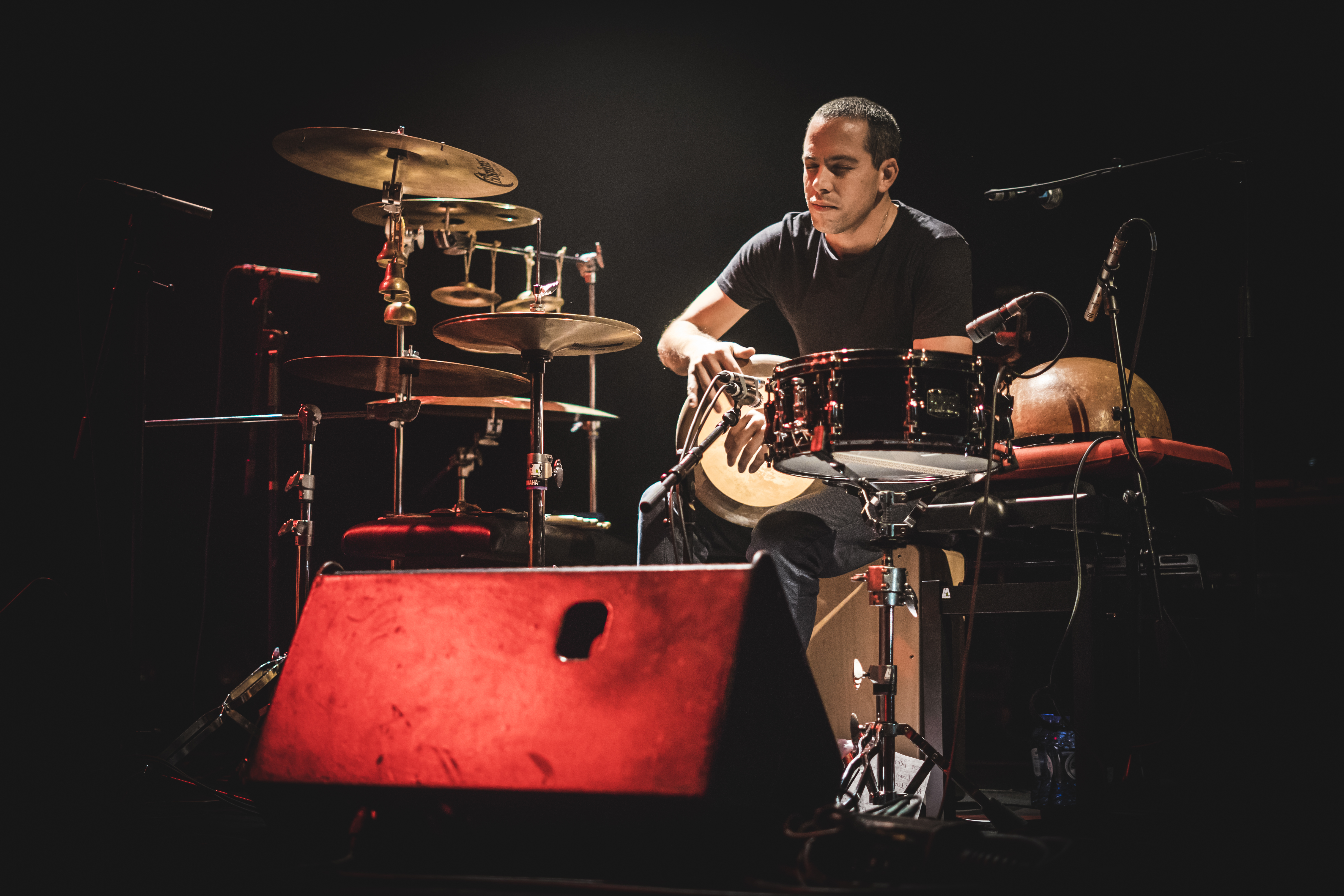 Itamar Doari is an international percussion artist who has spent most of his adult life traveling around the world giving concerts, recording albums, appearing at music conferences and most importantly studying the ancient art of rhythm and drumming. He began his musical journey at the young age of six, when he played his first drum in the Israeli desert oasis of Wadi Farran.
Itamar, born and raised in Galilee, grew up surrounded by a variety of musical traditions: Arabic, Sephardic, Turkish, Persian, Bedouin and many others which had a huge influence on his musical persona. During his early years of playing, he had the privilege of learning from some of the most prestigious teachers in percussion and hand drum technique in the world, among them; Zohar Fresco, Glen Vallez, Sallem Darwish and Ahmed Taher. Doari plays a wide range of instruments, including the Darbuka, Dohola and a variety of frame drums such as Bandir, Tar, Riq, Udu, and Cajon alongside Cymbals, bells, shakers and many others.
Itamar Doari's wide ranging techniques have led him to work with an eclectic mix of some of the world's finest musicians. Including prominent Jazz musician Avishai Cohen, with whom Doari has performed and recorded three albums, both as a musician and as a musical producer. He was at the forefront of the Idan Raichal Project, which gained international success due to the unique Ethiopian musical exploration. He has a continuing musical association with mandolinist and Grammy nominee Avi Avital, with whom Doari has collaborated in several projects including the "Between Worlds" Trio and with orchestras around the world. The great Ladino singer Yasmin Levy, Israeli Rock legend Berry Sakharof, oud player Samir Mekhul,Esther Ofarim, Yoni Rechter, Eviatar Banai, Amal Murcus, Ahuva Ozeri, Shotei Hanevuah, Nitin Sawhney, Omer Faruk, Tekbilek and Radiohead guitarist and composer Johnny Greenwood.
In 2010, Itamar became one of the founding members of the band Yemen Blues along with singer & composer Ravid Kahalani, the band explores music from a variety of different cultures from Yemen to West Africa inflected with contemporary grooves of funk, Arabic Music and the deep soul of old chants. A project particularly close to Itamar's heart is one he created entitled WadiAtma. In 2015, he put together a band of virtuoso musicians from the Flamenco and Middle Eastern traditions which created a musical melting pot of ancient art forms. The name of the project unites souls (Atma in Sanskrit) with the wadi (originally an Arabic word that found its way to Spain via Andalusia) in a way that describes, in the best possible way, the meeting on stage: The Valley of the Souls. His collaborations have seen him perform on some of the world's most prestigious stages and Festivals. Itamar has recorded with several notable record labels, such as; Universal, EMI, Deutsche Grammophone, Sony, Helicon, Blue Note, Decca.
---