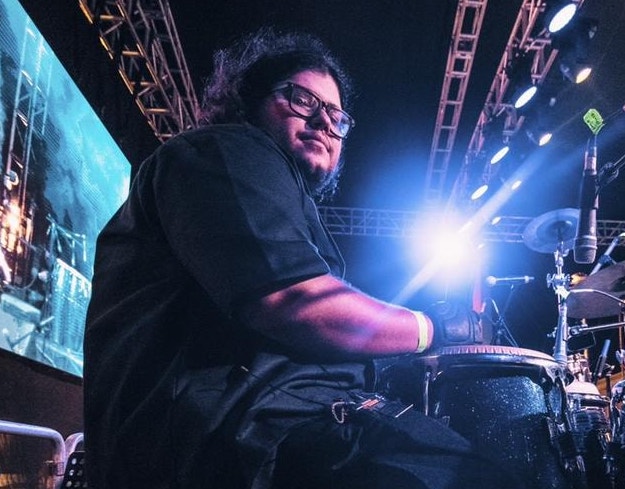 Originally from Carolina Puerto Rico, Jeren Luis Guzmán Rivera was born on May 28, 1992. From a very young age he showed interest in a broad array of percussion instruments and at the early age of eight he began to take classes with the Puerto Rican percussionist David Marcano, who has served as one of his life teachers within the Puerto Rican music scene. After finishing high school, he entered the University of Puerto Rico, Río Piedras Campus, where he completed a Bachelor's degree in Social Sciences. During his time at the U.P.R., he became student of renowned Puerto Rican bassist Samuel Morales Correa, who taught him fundamentals courses on jazz and popular music. With him he had the opportunity to act as the first percussionist on the live orchestra that gave life to the musical "Evita", a masterpiece by Andrew Lloyd Weber that was produced for the first time in Puerto Rico after more than 20 years of having premiered on the Island.
His passion for music overcame his academic interests, so after graduating, he decided to enter the Puerto Rico Conservatory of Music to study Latin percussion under master Andrew Lázaro Pacheco (M. H. R. I. P.), some one how quickly became his music and life mentor. From there, his musical career took off and he began to play with renowned artists such as Héctor Tricoche, Ángel David Mattos, Néstor Torres, Engel Dueño, among others. He also became student of music theory, theory and composition to professors Manuel Ceide, Javier Rodríguez Curet and Elías Santos Celpa.
In the summer of 2017, he made his debut as a jazz soloist at the "Puerto Rico Jazz Series" festival, where he had the opportunity to open for máster musicians' Pedro Guzmán, Jerry Medina, and Hernán López Nussa and where he also managed to get on stage with maestro Giovanni Hidalgo. After graduating "Cum Laude" from his degree in Jazz and Caribbean Music Performance, he became a member of the band for renowned latinoamericano alternative star "ILe", Grammy-winning international artist known as vocalist "Pg-13" of the band "Calle 13 ". From there he began to travel the world and performed on renowned stages such as the "Summer Stage Festival" in Central Park NYC the "Appel Room" at "Jazz at Lincoln Center." And the "North Beach Band Shell" in Miami Beach. He also recorded with her on the famed NPR series "The Tiny Desk Concert Series."
Jeren has shared the stage with artists of the caliber of Giovanni Hidalgo, Éndel Dueño, Julito Alvarado, Ángel David Mattos, Néstor Torres, Edgar Abraham, Gabriel Rodríguez, Tanicha López, Hector Tricoche, Francisca Valenzuela, David Marcano, Ama Ríos, Raúl Maldonado, Andrés Cruz, Manolito Rodríguez, Beto Torrens and Kike Serrano. Before the arrival of the novel coronavirus to our lives, he was also actively working as a member of different local groups such as "Conjunto Gira Criolla", The "Full Band" by Carlos Nevares, "El Masacote" by Ángel David Mattos, "El Conjunto Cachana" (The original orchestra of the Maestro Joe Quijano), and the "Conjunto Camará" by Carlos "El Profe." Sanchez. During February 2020 he had the opportunity to tour 17 cities in the United States and Canada with Ile, including Toronto, Boston, New York, Miami, Los Angeles and San Francisco. Currently, he is completing his master's degree in Cultural Agency and Affairs at the University of Puerto Rico and is about to begin production of his first album titled "Electric Salsa" with his group "La Descarga Electro- Salsa".
---