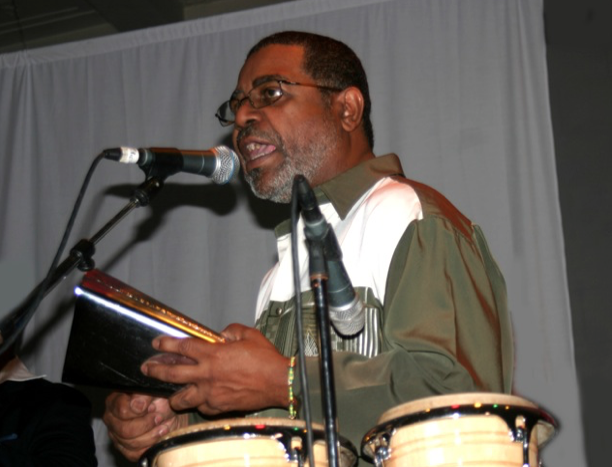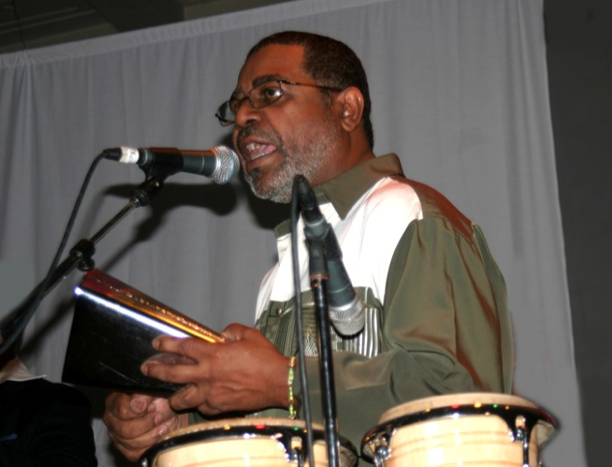 The son of the innovative and pioneering bongo musician, José Mangual Sr., aka "Buyú", José Mangual Jr. was born and raised in East Harlem, the Spanish Quarter of New York City known as "El Barrio". By the age of fifteen, José Jr. was already playing in local groups.
In 1968, Mangual Jr. was invited to play bongos and sing background vocals for a fledgling orchestra led by a young man named Willie Colón. The lead vocalist for this group was also a young singer named Hector Lavoe. Along with his perennial rhythm section "compadre", legendary percussionist Milton Cardona, Mangual would become a part of history, as they made some of the most important recordings in the annals of salsa music.
Mangual Jr. showed his skill as a composer, author, and lead vocalist with Colón's orchestra. With Kent Gomez in 1973, Mangual co-authored the song "San Miguel" for Tony Pabón y la Protesta. This song featured him as a lead vocalist.
After Willie Colón and Hector Lavoe parted ways to pursue different ventures, it was José Mangual Jr. who took over the musical direction of Lavoe's band. Shortly after this in 1977, Mangual formed his own record label, True Ventures Inc., and released A Tribute to Chano Pozo. This album features the classic recordings, "Campanero" and "Cuero 'Na Ma". It also established Mangual as a lead vocalist to be reckoned with, and a serious record producer.
The 1980's saw José Mangual Jr.'s fame grow even more, as he became a premier artist for Velvet Records, and further solidified his fan base in South America, Europe and the Orient. His skills as a percussionist, vocalist, composer, and musical director were sought out by many including Juan Luis Guerra, Rubén Blades, Herb Alpert, Dizzy Gillespie, David Byrne, Celia Cruz, Ramon Orlando, Mario Bauza, Mongo Santamaria, The Fania All-Stars, Junior Gonzalez, Ismael Miranda, Louie Ramirez and many others.
Perhaps the most fascinating aspect of Mangual's career is his ability to evolve and refine the sounds of his music. The 1990's saw him forming and leading his band Sarabanda, while still pursuing the projects he always wanted to do. In 1995, Mangual released his long-awaited Tribute to Chano Pozo Volume II. This album ranks among his finest, and gives listeners a glimpse into the mind of a master musician who grew up during the golden age of modern Latin music.
In 1998, Mangual produced and musically directed Caiman Records new salsa and Latin jazz release, "Son Boricua", by his band of the same name. This session features his original composition, "El Jibarito", which pays homage to the island of Puerto Rico, and his Boricua heritage. The album and group was the recipient of the New York Latin Critics' ACE Award as Best New Latin Release for 1998-1999.
Mangual's recent new release with "Son Boricua", entitled Homenaje a Cortijo y Rivera is a moving, swinging homage to the music of Rafael Cortijo and "El Sonero Mayor" Ismael Rivera. What makes this work so noteworthy is that it marks an even deeper trip, not only into Latin jazz, but into the panorama of what the sounds of a Latin New York are: the sounds of the streets of "El Barrio". Here, Mangual displays all of the attributes of his professional career, from being the musical director and a lead vocalist, along with the "Smooth One", Jimmy Sabater, to being a composer with his original composition, "Boricua Blues". With this release, Mangual, Sabater, and "Son Boricua" captured their second ACE Award in 2002. A third ACE Award would follow in 2003 for "Son Boricua's" 2002 release, Mo!
---