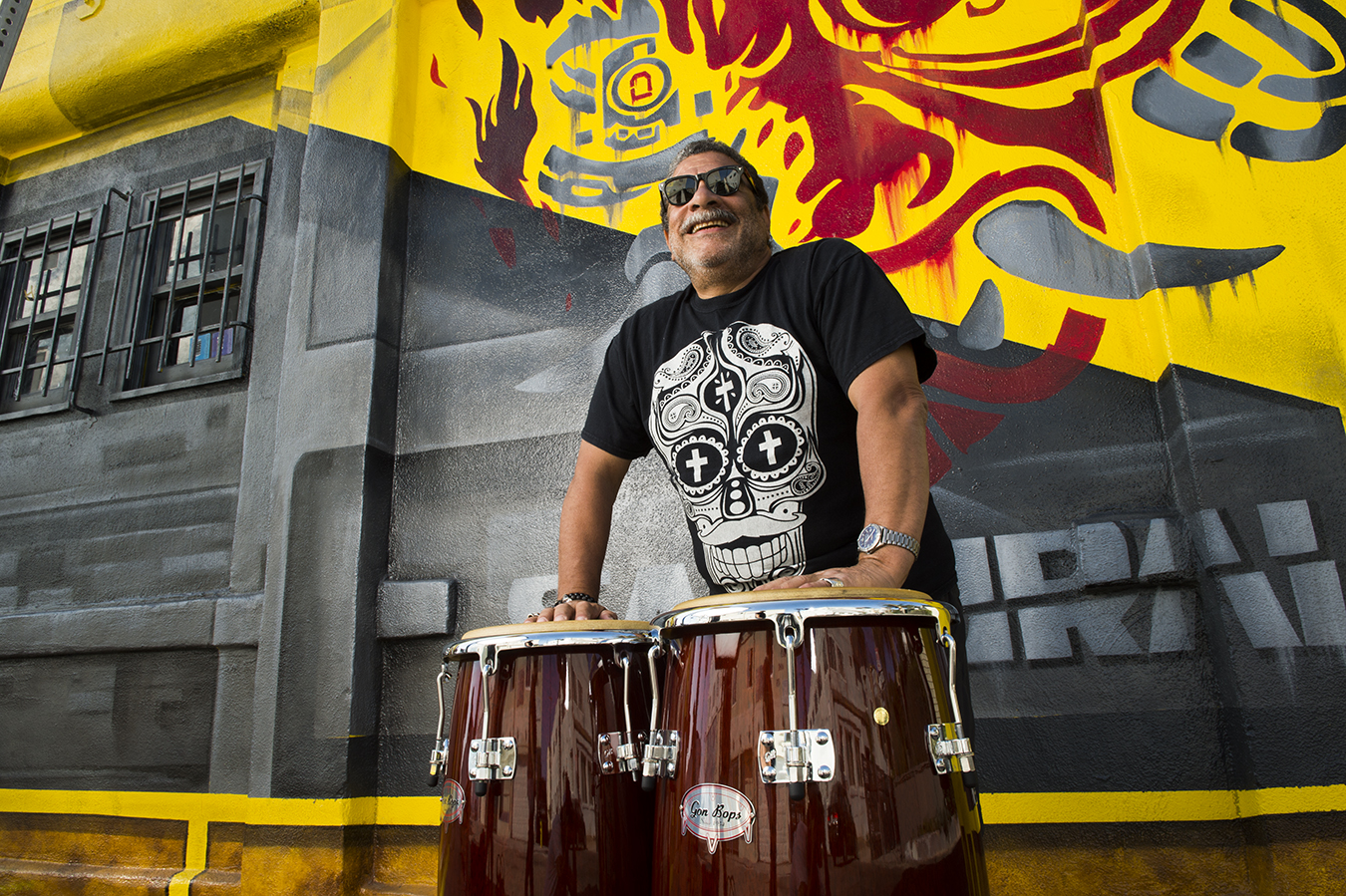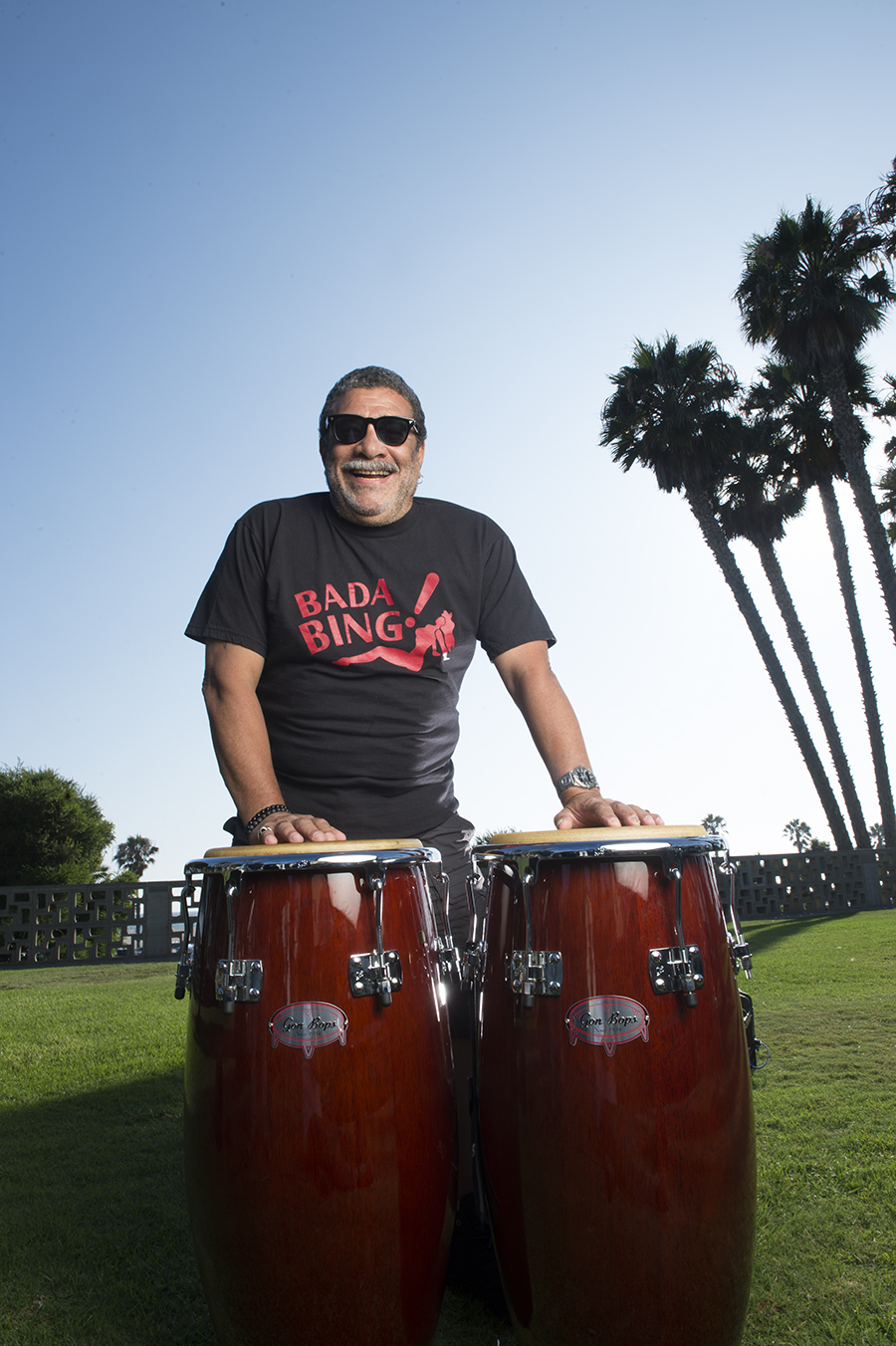 Born in New York City, master percussionist Lenny Castro is the son of musician, Hector L. Castro, who was a pianist and Musical Director for Johnny Pacheco and Celia Cruz as well as having his own group, Conjunto Candela. His first conga and drum set were given to him by his stepfather, George Cordero. Lenny went to the same high school that his father attended…Fiorello LaGuardia High School of Music and Art. He also attended Mannes College Of Music, Third Street Music School and was a member of the All-Boro Band and Orchestra, the All High School Band and Orchestra as well as playing at age of 14 in Salsa bands like Johnny Colon, Eddie Palmieri and other local NY bands.
At age 19, he was discovered by Melissa Manchester while working at Frank Ippolioto's Pro Drum Shop. Shortly afterwards, Melissa and the band moved to L.A. where Lenny then met musicians like Steve Lukather, David Garfield, Carlos Vega, as well as The Porcaro Family, Chuck Delmonico and many others. Soon becoming a part of the L.A. scene, he started working for many producers in Los Angeles like Richard Perry, John Stronach, Vini Poncia, Bill Schnee, Tommy Lipuma, Russ Tittleman and Lenny Waronker, and others.
Lenny Castro has recorded and toured in America and around the world with music's biggest artists including Melissa Manchester, The Rolling Stones, Elton John, U2, Joe Sample, Toto, Boz Scaggs, Ricky Lee Jones, Matsu Takako, Sadao Watanabe, Sahashi, Love Psycodelico, Boney James, Wayne Shorter, Adele, Glenn Frey, The Eagles, Dan Fogelberg, Fleetwood Mac, Stevie Nicks, George Benson, Steve Lukather, Red Hot Chilli Peppers, Rufus and Chaka Kahn, Brian Culbertson, Eros Ramazzotti, Noel Gallagher, Kid Rock, Micheal Lington, Peter White, Liza Minelli, Maroon 5, Dave Koz, Micheal Bublè, Justin Beiber, Justin Timberlake, Dave Sanborn, Amy Grant, Papa Roach, Kirk Whalum, The Crusaders, Cecilia Noël, Colin Haye, The Wallflowers, Tom Petty, Dolly Parton, Clint Black, Dwight Yoachum, Rod Stewart, Al Jarreau, The Rockettes, Bette Midler, George Duke, Dido, Mars Volta, The Dickies, Peter Criss, Joe Cocker, Joe Bonamassa, Zucchero, Neil Larsen, Larsen/Feiten Band, Karizma, Los Lobotomys, Marti Pell and many, many more.
He has also worked on film soundtracks such as Close Encounters of The Third Kind, Hancock, The Fugitive, 9 to 5 and is currently working on the Lion King feature film's soundtrack, as well as many commercial jingles like Toyota, and Burger King and animations like Family Guy, American Dad, The Simpsons, Phineas and Ferb and Sofia the Great.
Lenny Castro is currently working with the band Toto in the studio and live on their "40 Trips Around The Sun tour, as well as on his own solo project. He recently released his debut solo album entitled Hands Of Silk And Stone.
---