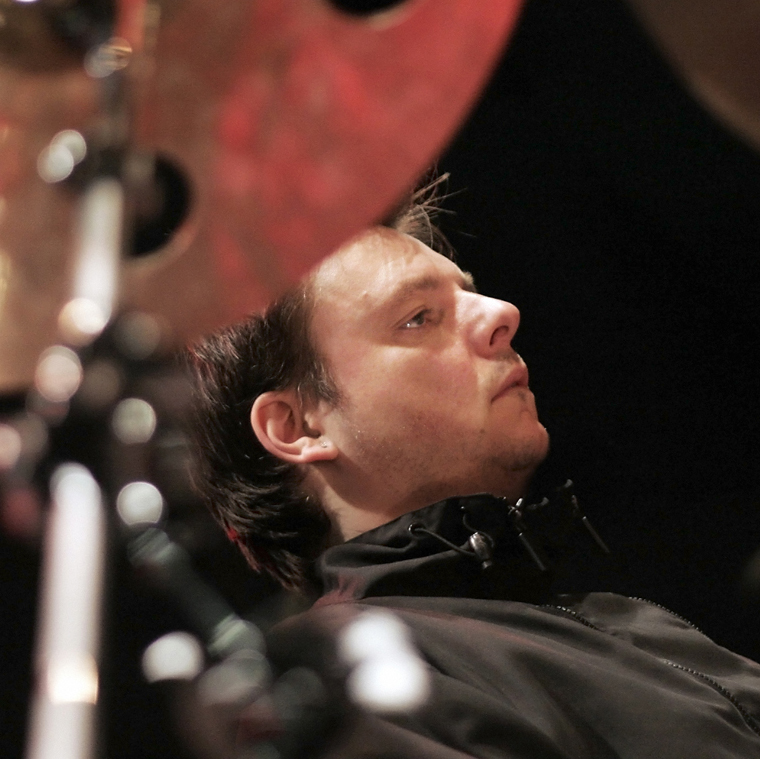 Miles Bould was born in London took up Saxophone and Clarinet at a young age and was strongly musically influenced by his father, a producer who had worked with such Jazz luminaries as Gil Evans, Dizzy Gillespie, Stan Tracey and Tubby Hayes – many of these great musicians went on to be family friends. In particular Dizzy noticed Miles' musical passion turn specifically to percussion at around 10 years old and set him on his path as a percussionist by giving him three of his touring congas.
At age 15 Miles was jamming and working in clubs playing various styles of music; predominantly Latin, Jazz, Funk and Reggae. He then joined his first serious Funk band 'Sava Jazz'. Through that followed a meeting with guitarist Dominic Miller (Sting). Dominic took Miles under his wing and they toured and have done many sessions together over the years. He was also spotted by Robert Palmer who he then began recording and gigging with. He then met Julia Fordham who was very instrumental in helping Miles get more connected in the session scene. She hired him to tour and eventually record with her. He went on to record and tour extensively with a broad spectrum of artists, including Sting, Daryl Hall, Joe Cocker, Level 42, Cher, Eternal, The Lighthouse Family, Julia Fordham, Incognito, The Pasadenas, The Beloved, Suggs, Shara Nelson, Simply Red etc. as both a percussionist and drummer.
He also recorded a sample CD with fellow percussionist Danny Cummings called 'The Rhythm of Life' which has been used by artists including Pat Metheny, George Michael, Brownstone, NYPD Blue. It has also been used by many film composers. This was followed by another 2 sample CDs, Audiovirus a loop break beat collaboration with Miles and Mike Westergaard called 'Intravenous' and another specific drum and percussion CD by Miles called 'The Progression'.
He also gigged with his own bands 'Goosebump', a Funk Rock band signed to Warner Chappell, and 'Peoplespeak' A Fusion project – Steps Ahead used one of their compositions 'Agitate the Gravel' for their 1992 album Ying Yang. He toured extensively with Billy Ocean and went on to co-write the title song on his 2010 album "Because I Love You"
The next few years saw Miles recording albums and gigging with more artists including quite a broad spectrum of artists including Beyonce, Michael Jackson, Joan Armatrading, Jermaine Jackson, Valerie Etienne (Galliano) Desert Eagle Discs, Gerard Presencer, Shaun Escoffery, Brand New Heavies, Russell Watson, Morcheeba, Daniel Beddingfield, Dominic Miller, Nigel Kennedy etc.
His current band 'USONiC' were nominated for a MOBO award in 2011 for best jazz act with their album 'EVOLUTION', which features Scott Henderson and Scott Kinsey of Tribal Tech.
Miles has his own professional recording studio where he currently carries out drum and percussion sessions remotely (full equipment spec on request). Miles is touring and has just recorded a duet album with Dominic Miller for ECM records called "Silent Light".
Miles is currently MD and drummer for Shaun Escoffery.
---