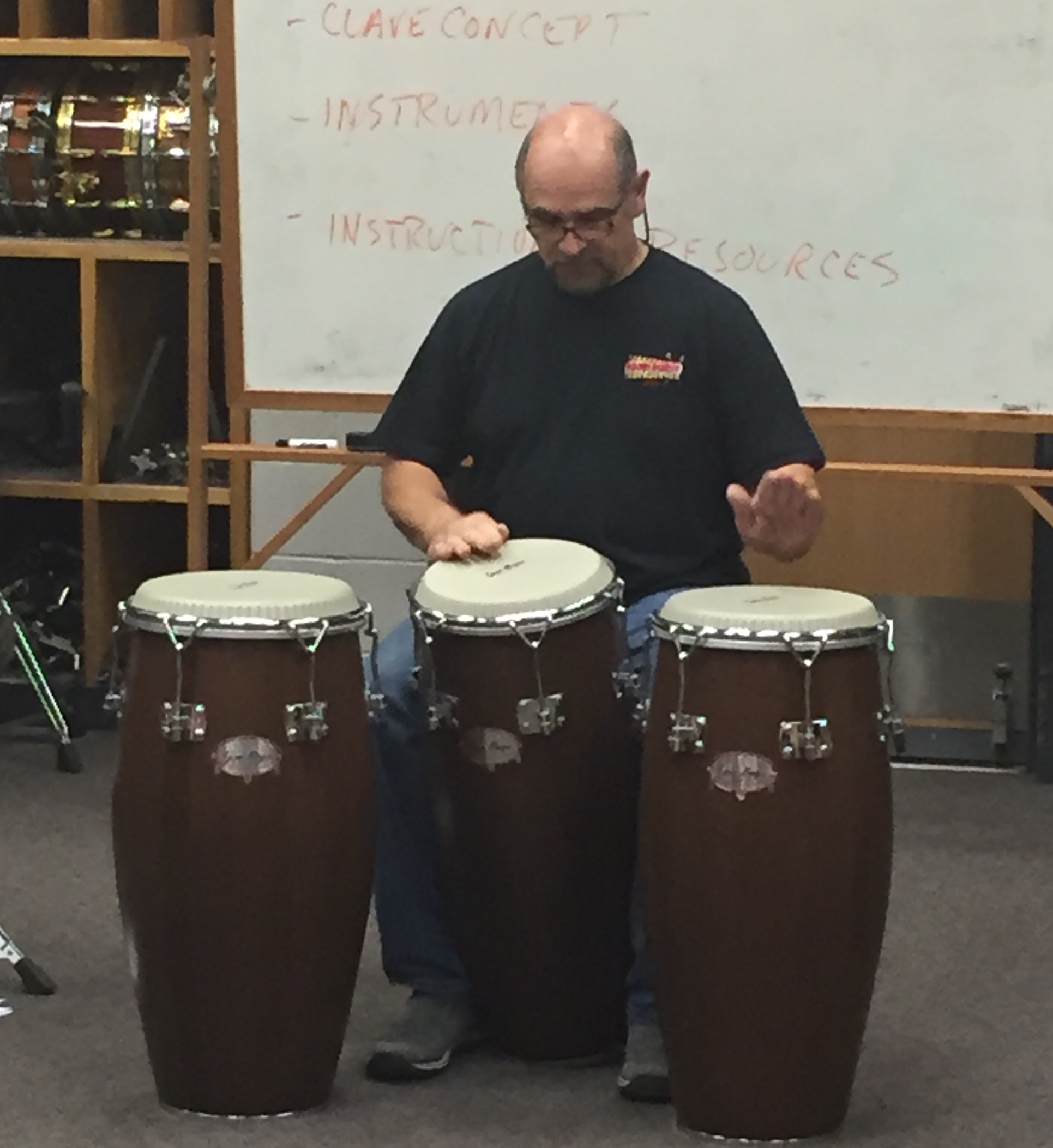 Roland Muzquiz, a San Antonio-area native, has been an active professional percussionist for the last 40 years. His experience spans both the performance and educational fields.
Mr. Muzquiz, a graduate of Pearsall High School, began cultivating his performance skills as a percussionist in the school's symphonic, jazz, and marching bands. Muzquiz also served as Principal Percussionist and Principal Timpanist in the San Antonio Youth Symphony Orchestra. He studied classical percussion with Dean Witten and James Dotson, Co-Principal Percussionists of the San Antonio Symphony. He also won positions in the Texas All-State Bands in multiple years. He began performing professionally as a percussionist for musicals at Fort Sam Houston Playhouse. Muzquiz was the 1975 winner of the San Antonio Symphony Orchestra's Young Artist Concerto Competition as a marimba soloist.
A graduate of the Eastman School of Music, Roland earned a Bachelor of Music degree in Applied Music (Percussion Performance) and studied with Professor John Beck. At Eastman, he was a member of the Eastman Wind Ensemble, Eastman Philharmonia Symphony Orchestra, and Musica Nova Contemporary Music Ensemble. He was instructed by Dr. Rayburn Wright and Bill Dobbins as a member of the Eastman Jazz and New Jazz Ensembles. In the jazz program he performed with artists such as Clark Terry, David Liebman, Woody Shaw, and Marion McPartland. He also participated in the Eastman Arranger's Holiday, where he performed in combo, jazz ensemble, studio orchestra, and film-scoring sessions with arrangers such as Manny Albam and Dave Berger, and artists such as Bobby Brookmeyer, Hank Jones, and Pepper Adams. He became involved in the Rochester-area jazz and commercial music community, performing as a sideman with numerous bandleaders in the area. While living in Rochester, he studied marimba with Leigh Howard Stevens, and drum set with Dave Ratajczak. While attending Eastman, he forged an alliance with New York City-based Latin percussion master, Frank Malabe. Through his association with Malabe, Muzquiz developed a passion for Afro-Carribean music, which complemented his similar interests in Brazilian music.
After graduating from Eastman in 1980, Muzquiz relocated to the Dallas-Ft. Worth metroplex area to pursue his professional career as a percussionist full-time. He became Percussion Coordinator for the Richardson High School Instrumental Music Program, conducting percussion ensembles, drum line, and teaching the private lesson studio for the last 35 years. He was selected as an Artist-in-Residence for Young Audiences of America, conducting workshops on Afro-Cuban and Brazilian percussion for elementary and middle school students in the Dallas area from 1993 through 1998. He also served as the Ethnic Percussion instructor for 20 summers (1989-2009) for the Stephen F. Austin State University International Percussion Symposium in Nacogdoches, Texas.
As a professional performer, he currently serves as Principal Percussionist of the East Texas Symphony Orchestra and Principal Percussionist of the Dallas Wind Symphony. As a utility percussionist, he performs with the Dallas Symphony Orchestra, the San Antonio Symphony Orchestra, and the Shreveport Symphony Orchestra as well as with the regional orchestras of Abilene, Longview, Marshall, Plano, and Richardson,
Texas. As a free-lance musician, he has performed with artists such as Bernadette Peters, Shari Lewis, Toni Tenille, Joel Grey, Robert Guillaume, Frank Sinatra, Jr., Brian Wilson, and Doc Severinsen.
On the jazz/commercial front, Muzquiz has performed with the Dallas Jazz Orchestra, and the dance orchestras of Harvey Anderson, Phares Corder, James Davis, Al Pierson, Ted Weems, Kurt DeKuehn, and Dave Tanner. He has served as drummer/ percussionist for Fernando "Vicho" Vicencio's Moondance Orchestra for 28 years. His association with South American-born bandleader Vicho Vicencio also includes a combo, the New Casino Band, that specializes in Afro-Cuban, Brazilian, and Latin Jazz repertoire.
Muzquiz is a member of AFM local 72-147 and an active member of the Percussive Arts Society, having served as Texas State Chapter President from 1987 through 1991. He has hosted numerous percussion clinics by artists such as Alex Acuna, Peter Erskine, Mike Portnoy, Bobby Rock, Bernard Purdy, Ritchie Garcia, Chad Wackerman, John Robinson, Nexus, and one of only six clinics on the "Mission from Gadd" tour in 2006. Perhaps his most significant clinics to host were presented by Master Cuban percussionist Luis Conte, with whom Muzquiz was able to study and collaborate.
Roland has served as Percussion Equipment Manager for the Texas Music Educators Association for the last 27 years. He collaborates with major percussion manufacturers (Ludwig-Musser, Sabian, and Gon Bops) to provide percussion equipment for Texas All-State bands and orchestras at their yearly convention.
Roland enjoys and prefers performing on Slingerland drum kits, Pearl Philharmonic orchestral snare drums, Gon Bops Latin percussion, and Sabian cymbals. He currently maintains a long-standing endorsement agreement with Sabian cymbals.
Mr. Muzquiz has four children, all of whom are active in the professional music communities of Dallas, Texas and Portland, Oregon. His passions include studying Afro-Cuban and Brazilian music and culture, cooking Latin cuisine, American muscle cars, collecting vintage percussion instruments, and raising his dogs, Gianni and Joey.
---