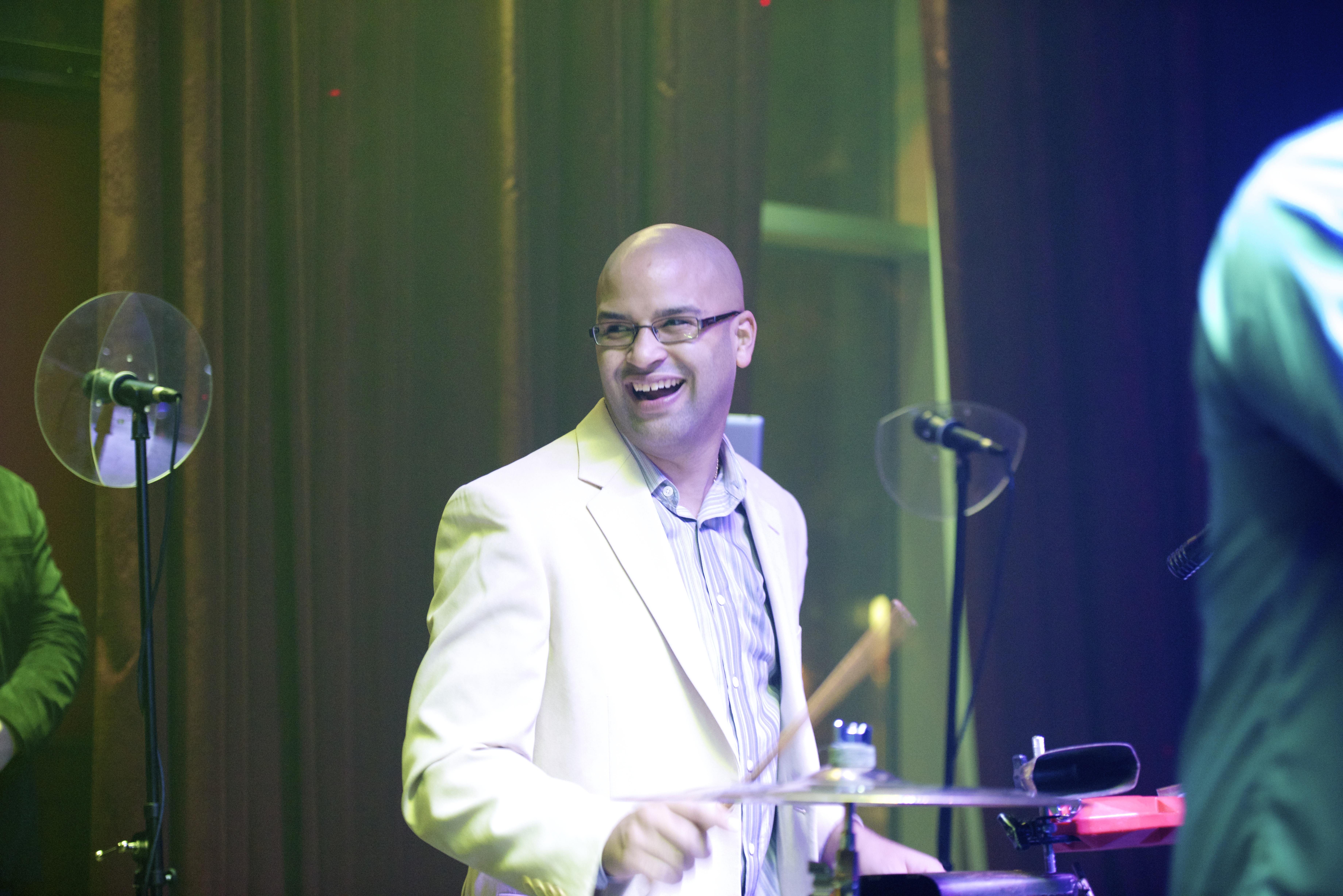 Samuel López has ben an active musician in central Texas for some time. Born in Puerto Rico, Samuel moved to Texas and began learning how to play latin percussion from the teachings of family and friends. As a teenager, Samuel began playing in various Salsa and Merengue groups in the Killeen-Austin-San Antonio area. Soon after, Samuel became a charter musician for the Puerto Rican Folkloric Dance Group in Austin, Texas. During his time with PRFDance, Samuel worked and learned from Puerto Rican folkloric masters, Don Modesto Cepeda, Los Pleneros De La 21, Grupo Paracumbe, William Cepeda, Grupo Guateque and Gibaro de Puerto Rico.
In 2005, Samuel began his studies in Music Education at Texas State University- San Marcos. During that time, Samuel became the official timbal player for the award winning Salsa Del Rio Band at Texas State University. In 2007, Samuel recorded in the album, "Lloraras" with Salsa Del Rio, which won the Downbeat Magazine Award for "Best Recording of the Year" in the Blues, Pop and Rock category. It was during his years with Salsa del Rio when the group was awarded the "Best Salsa Band of the Year" three times in a row at the "Premios a la Musica Latina" ceremony hosted by Univision TV in San Antonio. Samuel performed with Salsa Del Rio at the 2007 Montreaux Jazz Festival and the 2008 Notre Dame Jazz Festival.
In 2009, Samuel recorded and provided comments for Professor Robin Moore's book: "Music in the Hispanic Caribbean," from The University of Texas. In 2011, Samuel earned a Masters of Music in Latin Music Performance from Texas State University. In 2012, Samuel was the Interim Director of the Caribbean Ensemble at the University of Texas at Austin.
Samuel has had the honor of studying congas under the late great David "La Mole" Ortiz, and has performed with Larry Harlow, Luisito Carrion, Georgie Padilla, Brian Lynch, Hector Tricoche, Memo Acevedo, Pete Rodriguez Jr., Nilsa "Cita" Rodriguez, Victoria Sanabria, and Paquito Guzman amongst others.
Samuel is currently faculty in the Latin Music Studies Department at Texas State University in San Marcos Texas. His responsibilities are Director of Orquesta Del Rio and Afro-Caribbean Lab plus he teaches Latin Percussion Lessons, Salsa Arranging, Latin Music Methods and Afro-Caribbean Hand Drumming.
Samuel is a member of Austin's Cienfuegos and La Moña Loca were he has written and arranged music. He also plays congas and arranges for Orquesta Trabuko and performs with various groups in the Austin area. Samuel is a member of the Percussive Arts Society.
---