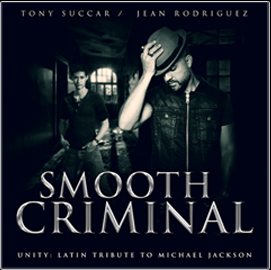 The first ever Latin album salute to the King of Pop, from producer/multi-instrumentalist/arranger Tony Succar. To Be Released April 14 On Universal Music Classics in Partnership With Universal Music Latin Entertainment and featuring over 100 musicians, including Latin superstars Tito Nieves, Jon Secada & Obie Bermúdez, among many notable others!
Fueled by his relentless commitment, quiet determination and passionate faith in the loving message behind much of Michael Jackson's music, producer/multi-instrumentalist/arranger Tony Succar has thoughtfully created Unity: The Latin Tribute To Michael Jackson.  The result is Jackson's timeless pop and R&B tunes, such as "Thriller," "Billie Jean," and "I Want You Back" married with glorious salsa and tropical rhythms, resulting in innovative, vibrant arrangements that snap to life with exhilarating energy. Unity will be released April 14 on Universal Music Classics in collaboration with Universal Music Latin Entertainment.
The groundbreaking album embodies Jackson's spirit of harmony and bringing diverse cultures together through music. "The one thing that stood out in Michael's music was love. The reality was unity," Succar says. He continues, "I also wanted the title to stand for something: a real marriage between Latin roots and American pop culture, and to help keep Michael's legacy alive."
The birth of Unity came when Succar arranged a salsa-infused version of "Thriller" for a Halloween party in Miami.  The reaction was so immediate and overwhelmingly positive that he recorded a version in his bedroom with his band, posted it online and gave away copies. DJs started playing the track and Succar began getting requests from around the world for a full album of Latin-flavored Jackson songs. "That sparked it," Succar says. "I was such a fan. I felt like I had to do something."
Part of keeping Jackson's legacy alive meant incorporating elements of the original production in each of his fresh renditions for Unity. "Even the horn lines, I would transcribe them from Quincy Jones' productions and then apply them to the arrangement in a different way," Succar says. "The essence of every song was respected. I gave it my best to create this very thin line between what Michael did with his production and what I brought to the project."
With Succar taking producer and arranger credits, Unity also features two tracks – "Earth Song" and "Smooth Criminal" — mixed by Michael Jackson's legendary engineer Bruce Swedien with Nick Valentin.  Grammy winner Carlos Alvarez engineered the rest of the album achieving a sonically crisp sound.
"American funk, soul, jazz—all those styles that were influencing Michael— were inspired from African music," Succar says. "Same with Afro-Peruvian music, Cuban music. These songs were meant to be. Their original flavor lends itself to these Latin rhythms."