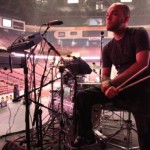 Gon Bops has announced the addition of drummer and percussionist Jotan Afanador to its growing family of artists. Currently performing with Bachata mega-star Romeo Santos, New York based Afanador performs regularly in front of huge crowds worldwide, including 4 sold-out nights at New York's Madison Square Gardens.
In addition to his work with Santos, Jotan has performed with Sergio Mendes, Tito Puente's Big Band, Aventura, Lady Gaga and Jennifer Lopez, amongst others. He was previously featured on the TBS sitcom "Are We There Yet", produced by rapper/actor Ice Cube.
GB proudly welcomes this multi-talented drummer and percussionist to our artist family!