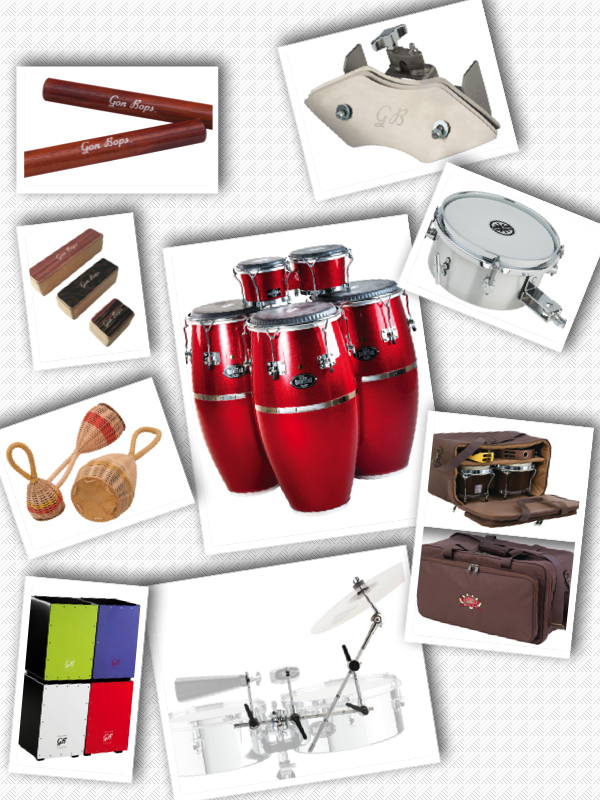 We're very exicited to announce the addition of the following instruments, to be premiered at Winter NAMM, 2018!
Roberto Quintero Signature Drums
Designed with Master Conguero Roberto Quintero, these beautiful drums produce deep, resonant bass tones and loud, cutting highs … as only fiberglass drums can deliver. All drums feature premium Fiberglass shells, CA Contour Hardware, REMO Skyndeep Heads. Crafted in Thailand.
Fiesta Cajons
Available in 4 fresh, new colors, with sound and quality well above their price point. All 4 new models feature internal, adjustable snares, large rubber feet for superior isolation and a size and form factor that is beginner friendly. Crafted in Thailand.
8" Timbale Snare
Blending a traditional Latin timbale with a sensitive, long-range snare throw-off, our 8″ Timbale snare provides the ability to play cutting timbale fills with a snare back-beat at your fingertips. Crafted in Taiwan from premium lightweight aluminum w/custom synthetic head.
Crasher Deluxe
Ships with two sets of blades (stainless steel & aluminum), for a choice between loud and cutting, or soft, white-noise effects. Includes Gon Bops V-Grip mount for the strongest, most- secure hold possible. Crafted in Taiwan.
Caxixi
100% hand woven in Brazil from natural, sustainable materials. The combination of wild banana tree seeds striking the hard gourd skin base produces lively, organic sounds to provide excellent rhythmic accompaniment and color. Sold as individual shakers.
Hickory Claves
Crafted from select choice Hickory wood, these bright, high-pitched claves deliver the same cut and timbre as traditional Rosewood claves. Crafted in Canada.
Fiesta Wood Shakers
A 3-pack of Shakers designed to offer a variety of sounds for percussionists at all levels. Smartly-priced, these are easy to add to your percussive arsenal, no matter what your budget. Made in China.
Bongo Duffel Bag
Constructed from fully-padded, water-resistant fabric with silky-smooth lined interior, it offers excellent protection for your valuable instruments. Made in China.
Timbale Hardware Set
A complete premium solution for mounting bells, blocks, cymbals, and more to a Timbale set. Offers maximum versatility and a rock-solid platform for professional musicians. Crafted in Taiwan.