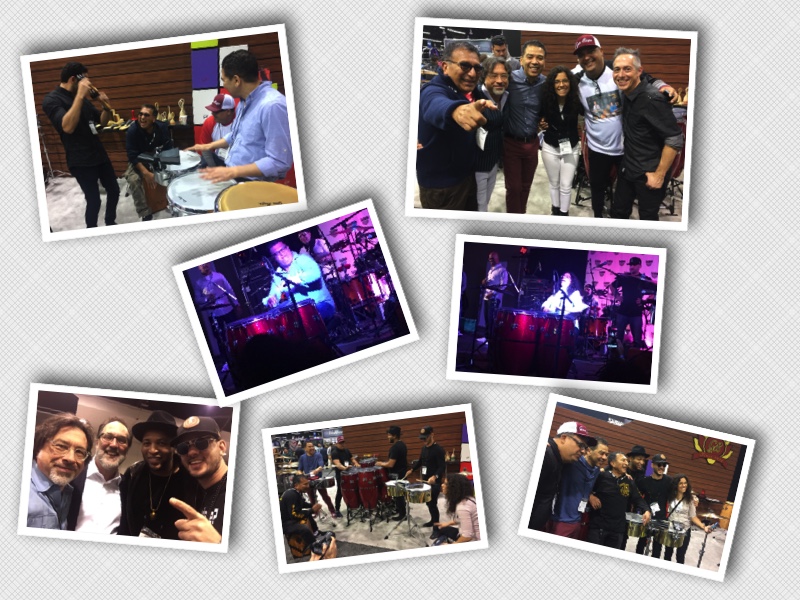 2018 Winter NAMM proved to be Gon Bops' Best NAMM showing ever!  With premiering our new Roberto Quintero Fiberglass Congas and Bongos, this year's booth was accented by 'red-sparkle' and Roberto himself was on hand to demo his great new drums.  The finest percussionists in the world were there including masters Alex Acuna & Walfredo de los Reyes Sr and Gon Bops 'New' generation of incredible talent –  conguero phenom Eliel Lazo, Timbaleros Luisito Quintero and Daniel Rodriguez, and our newest member to our family, from Buenos Aires, Argentina, the extremely talented Carolina Cohen!    Stay tuned to Gon Bops for news on the upcoming video of the amazing spontaneous performances that went down at the show!
Also, huge hits were Gon Bops newest products, our muli-colored Fiesta Cajons, 8″ Timbale Snare, Crasher Deluxe, Brazilian-made Caxixi, Hickory Claves, Fiesta Wood Shakers and lastly, our versatile Timbale Hardware Set!
Thanks to all who attended the show and lent their great vibes to Gon Bops!!