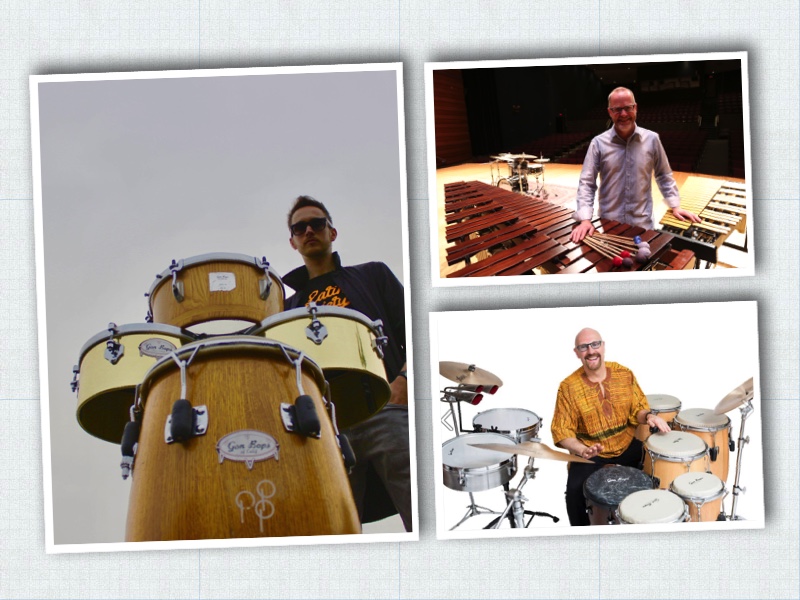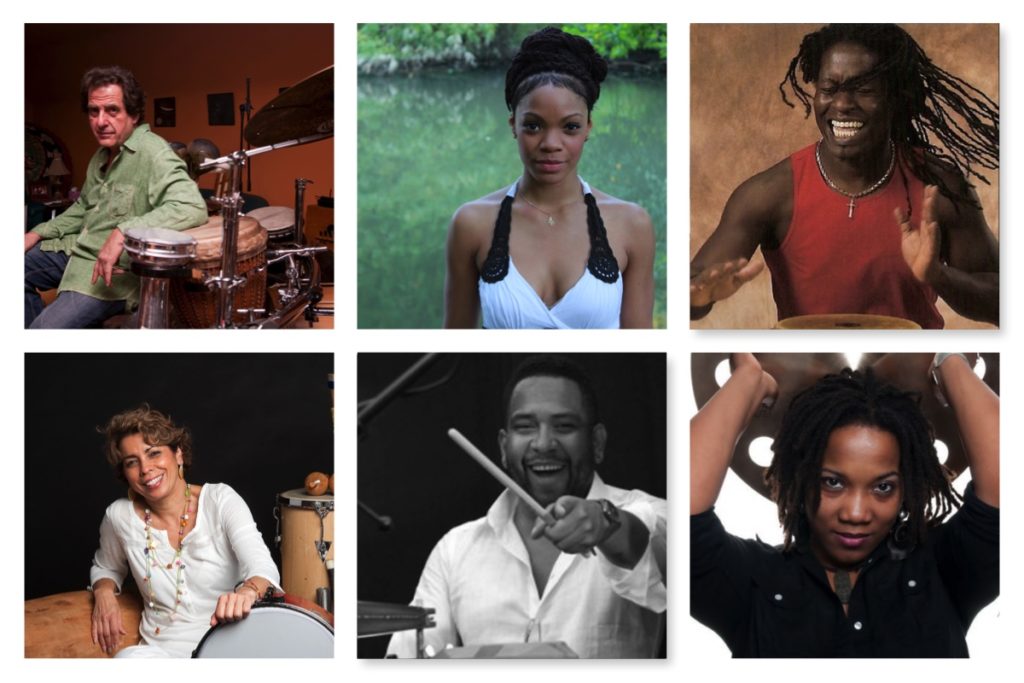 In keeping with our strong focus on the percussive arts, we welcomed some stellar artists to our family in 2016. Our new artists span years of experience and varied genres and share Gon Bops' dedication to creativity and ingenuity.
We're so excited about Jamey Haddad coming our artist family. Considered one of the greatest percussionists in the world, Jamey's reputation both as a performer and educator is second to none. His two current gigs with the iconic Paul Simon and Sting showcases his deep knowledge of world music and exceptional musicality.   We also welcomed this past year a true drummer's drummers – Tom Brechtlein!   Tom's amazing technical skills combined with his fantastic feel, has brought him to collaborate with legends including Chick Corea, Wayne Shorter, Al Di Meola, Rock icon Kenny Loggins and Blues Rock guitar master Robben Ford.
Gon Bops further welcomed some very respected Latin players this past year. Hailing from Havana, Brenda Navarrete is one of the rising stars of Cuba. Her resume includes collaborations with Cuba's most respected artists and her solo projects include highly acclaimed television and radio broadcasts. One of the great percussionists from Brazil, Nailton Dos Santos, also known as Meia Noite came aboard, joining his brother Gibi Dos Santos in the GB family. Meia's credits include Aretha Franklin, Sergio Mendes, Ricky Martin and many others.
From Venezuela, Gon Bops welcomed two new artists. Jackeline Rago is a multi-instrumentalist, specializing in Venezuelan folkloric music and is also a respected educator in Oakland California. She's also an expert classical mandolin player.   Drummer for the highly acclaimed Venezuelan band "Caibo", Juseph Ballestero brings a dynamic style to his music and also performs with the Latin Grammy nominated "Tecupae Group".
From Europe and beyond, Gon Bops welcomed two Latin artists now residing abroad. From The Netherlands, Adriaan Joaquin Correa dominates the Dutch Latin music scene with his "Latin Society Orchestra-La Vibora". Originally from Venezuela now residing in Switzerland, percussionist Edwin Sanz tours with the hugely popular Mexican guitar duo, "Rodrigo & Gabriela" and recently released his solo project, "San Agustin & Overflow".   Born in Sapporo, Japan, Takafumi Nikaido traveled at a young age to Cuba to study percussion and dance with the legendary Los Munequitos de Matanzas. Recently graduating from the Berklee School of Music, we're happy to support this rising, extremely talented conguero.
Coined a creative bonanza by Modern Drummer magazine, Tom Teasley joined the Gon Bops roster with an eclectic approach to contemporary percussion. Always pushing musical boundaries, Tom's ability to merge instruments from various countries inspires many young players to think outside the box.   Born in Harlem, New York, Leslie "Chuggy" Carter is a noted American percussionist influenced by a wide range of styles including Afro-Cuban and Brazilian music, to Soul, Jazz, Gospel and Funk. Known for his work with Patti LaBelle and Donny Hathaway, Chuggy has traveled the globe always expanding his knowledge.
Chicago percussionist JoVia Armstrong comes to Gon Bops as the winner of the 2014 Black Female Percussionist of the Year from the Black Women in Jazz Awards. JoVia's vibrant style and soulful feel has brought her collaborations with many artists including El DeBarge, Rahsaan Patterson, The Impressions, Nicole Mitchell's Black Earth Ensemble and many more.
We also welcomed four acclaimed percussion educators in 2016. Roland Muzquiz is a member of the San Antonio Youth Symphony and the Principal percussionist for the East Texas Symphony Orchestra and the Dallas Wind Ensemble. Roland's career has influenced countless students and has performed with artists such as Frank Sinatra Jr., Toni Tenille and Joel Grey.   At the Oregon Center for the Arts in Ashland Oregon, music professor Terry Longshore is a well-respected performer and educator, appearing numerous times at the Percussive Arts Society International Convention. His genre-crossing performances combine the artistry of the concert stage, the spontaneity of Jazz and the energy of a Rock club. Puerto Rican born Sam Lopez is a faculty member in Latin Music Studies at Texas State University and has performed with Larry Harlow, Luisito Carrion, Georgie Padilla and many others. Lastly, Iowa School of Music professor Dan Moore possesses a distinctive brand of improvisational music and leads Iowa Percussion, a student-centric program that encompasses contemporary chamber music, concert percussion, electronic music, steel band, traditional Chinese drumming and improvisation.
 We welcome all these great artists and look forward to another amazing Gon Bops year in 2017!!