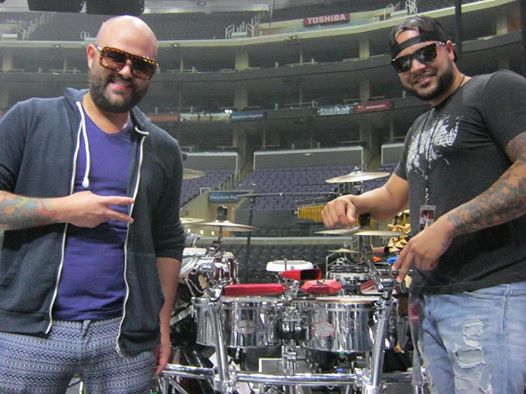 Gon Bops' own Rich Mangicaro recently met up with Pitbull's Omar Tavarez & Papayo Corao for a hang and a chat. It was a great opportunity to pick their brains on everything from soloing as a duo to their love of Gon Bops instruments.
GB: How did you two first meet?
Papayo & Omar: We first met on a gig we had together with a band from Miami called "SUENALO".
GB: How do you approach Hip-Hop & Rap music, considering your strong Latin backgrounds? That is – what is the most important thing about fusing these music styles, when you approach learning his material?
Papayo: I believe that our Latin background is what made us the perfect duo to work with Pit. As they say, "too Latin for hip hop, and too hip hop for Latin" The key in this fusion is to stay on beat! Which I also believe is the key for any music style.
Omar: We just keep it simple. K.I.S.S.
GB: Have you ever been asked to play the music with "Less Latin" feel or approach? If so, what happened?
Papayo: Never.
Omar: No, not really. When asked to play Latin grooves, Papayo and I attack it with all the info we know about playing Latin grooves.
GB: Do you have a say in the overall arrangements of the songs?
Papayo: Yes, of course! Especially in the live shows.
Omar: Yes Papayo and I both do,but the rest of the band, DJ, and PITBULL all put in their 2 cents.
GB: How do you guys approach soloing, as a duo?
Papayo: Just Have Fun!
Omar: Proper communication. Could be a nod or a wink but we come from a Jazz background…trading 4's or 8's.
GB: What is it about Gon Bops that made you decide to endorse that brand?
Papayo: Gon Bops is a very unique and selective company….Something different with lots of quality! Also, they were very open to work together, so I think this is very important.
Omar: Its history and artist roster.
GB: What would you advise young players, in today's difficult music industry, to best be prepared to get work?
Papayo: If you dream it, is possible! Keep working hard! No one said it was going to be easy, but that is part of living! Make it happen! And most important, always have fun!
Omar: Always say Please and Thank You
GB: What do you listen to in your personal time, for inspiration?
Papayo: PAPAYO
Omar: Lots of Jazz fusion, World Music, and anything out of Jamaica.
GB: What other passion/hobbies in life, gives you joy BESIDES playing music?
Papayo: Music is a lifestyle! And it has become my only passion…But first, family!
Omar:Tennis, Fixie gear biking, Crossfit training, Hunting, The range & the beach cuz "life's a beach"!